Volunteer in Croatia
Embarking on a volunteering in Croatia adventure will help you uncover a unique side of Europe that awaits your exploration. With its charming fishing towns, pristine beaches, azure waters, and breathtaking natural landscapes, Croatia offers an ideal destination to spend your summer while making a positive impact.
You have a passion for animals? Croatia has incredible opportunities for you. Join a dolphin conservation project and dedicate your time to safeguarding these remarkable creatures. You will get the chance to see marine creatures up close by actively participating in the project, and you will also be able to help the organisations conducting the project's crucial research. Your participation will be crucial to the conservation initiatives intended to safeguard native species.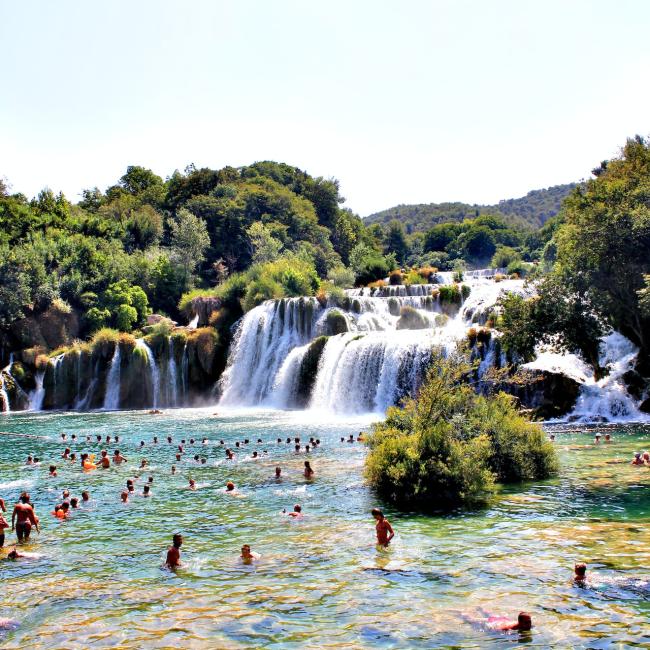 List of Top Rated Volunteer Opportunities in Croatia
Why volunteer in Croatia? Does Croatia need volunteering support?
Despite its popularity as a tourist destination, Croatia faces certain socio-economic challenges that require attention and support. The country's aging population poses unique social and economic pressures, and the issue is further exacerbated by increasing outmigration as individuals seek better opportunities elsewhere. Croatia also strives to catch up with its European counterparts in terms of economic growth.
However, amidst these challenges, Croatia's natural beauty and cultural heritage continue to captivate visitors from around the globe. By participating in volunteer projects in Croatia, you can actively contribute to the preservation and conservation of its stunning landscapes and cultural sites.
Furthermore, there are various communities within Croatia that require additional assistance and support. Volunteering opportunities are available to work with local youth, individuals with special needs, or engage in teaching initiatives. Through your volunteer work, you can make a meaningful impact by helping these communities thrive and overcome the obstacles they face.
By choosing to volunteer in Croatia, you not only have the chance to explore its captivating scenery and immerse yourself in its rich history but also contribute to the betterment of the country and its people.
Every program has different requirements and expectations from its volunteers specific to the cause it is supporting. Therefore, it is important that you thoroughly check these requirements separately on the Meaningful Travel project page before applying. Although you can take note of some general requirements that apply to most volunteer projects in Croatia:

The minimum age for volunteering varies depending on the organization and project, but it is usually 18 years old.
Volunteers can come from any country and must have a valid passport.
Volunteers with specific skills, such as doctors, nurses, and teachers, are particularly welcome in Croatia.
Depending on the project, volunteers may be required to have a certain level of education or experience.
Volunteers must be in good health and able to perform the duties required by their project.
Some projects may have specific requirements, such as a background check or a specific language proficiency.
It is important to research and chooses a reputable organization to volunteer with in Croatia, as some organizations may not be legitimate or may not have the best interests of volunteers or local communities in mind.

Croatia can benefit from volunteering support in various areas. Environmental conservation is crucial due to the country's diverse ecosystems, including national parks, lakes, and coastlines. Volunteers can participate in activities like clean-up campaigns, wildlife conservation projects, and sustainable tourism initiatives. Volunteering in Croatia will offer you several unique and enriching experiences.

Education and community development are also areas where volunteering can make a difference. Volunteers can assist in local schools, teaching English, or organizing educational programs, thereby enhancing educational opportunities for Croatian students. Additionally, volunteering in social welfare initiatives, such as supporting vulnerable groups or refugees, can contribute to improving the quality of life for those in need.

Croatia presents a valuable opportunity to combine your passion for travel with meaningful volunteering work. By offering your time and skills, you can contribute to the well-being of local communities and help preserve Croatia's natural and cultural heritage and the country is renowned for its stunning landscapes, historical sites, and vibrant culture.

Volunteer for Wildlife in Croatia

Croatia's rich biodiversity and stunning natural landscapes make it an ideal destination for volunteering in wildlife conservation. Volunteers can participate in projects that focus on protecting and preserving endangered species, such as

Sea turtles
Birds
Marine life

Tasks may include monitoring nesting sites, conducting research, promoting environmental education, and participating in habitat restoration efforts. Organizations like the Blue World Institute of Marine Research and Conservation and the Croatian Society for Birds and Nature Conservation offer volunteering opportunities in this field.

Medical Internships in Croatia

For individuals pursuing a career in healthcare or medicine, volunteering in medical internships in Croatia can be a valuable experience. Volunteers can work alongside medical professionals in hospitals, clinics, and healthcare centers, assisting with patient care, administrative tasks, and public health initiatives. These internships provide an excellent opportunity to gain hands-on experience, learn from experienced professionals, and contribute to improving healthcare access for underserved communities in Croatia.

Teach Abroad in Croatia

Volunteering as a teacher abroad in Croatia allows individuals to make a difference in the lives of local communities while experiencing the country's rich cultural heritage. Volunteers can engage in English language teaching programs in schools, community centers, or after-school programs. They can help enhance language skills, facilitate cultural exchange, and promote global understanding among Croatian students. Organizations like Volunteers Centre Zagreb and AIESEC offer programs for individuals interested in teaching abroad in Croatia.

Volunteer for Child Care in Croatia

Volunteering in child care programs provides an opportunity to support children in need and contribute to their well-being. Volunteers can work in orphanages, childcare centers, or community-based initiatives, assisting with activities that promote educational, emotional, and social development. This may involve organizing recreational activities, providing academic support, mentoring, and offering emotional support to children facing challenging circumstances. Organizations like SOS Children's Villages Croatia and UNICEF offer volunteer programs focused on child care in Croatia.

Volunteer for Community Service in Croatia

Volunteering for community service projects allows individuals to actively engage in initiatives aimed at improving the lives of local communities in Croatia. These projects can range from environmental conservation and sustainable development to social welfare and cultural preservation. Volunteers can participate in activities such as

Beach cleanups
Community gardens
Heritage restoration
Supporting marginalized groups

Numerous local NGOs and volunteer organizations, such as Green Action and Volunteer Club Rijeka, provide opportunities for community service volunteering.

When it comes to volunteering in Croatia, several ideal locations offer unique opportunities to make a difference. Each region of Croatia has its own charm and specific volunteer needs.

Here are some noteworthy places where you can contribute your time and skills:

Zagreb: As Croatia's capital city, Zagreb is a hub for various charitable organizations and initiatives. You can find volunteering opportunities in areas such as social welfare, education, environmental conservation, and community development.
Dubrovnik: This picturesque coastal city not only attracts tourists but also provides volunteering prospects. You can engage in projects related to cultural preservation, tourism support, marine conservation, and local community assistance.
Split: Located on the Adriatic Sea, Split offers a vibrant volunteering scene. You can participate in projects that focus on youth development, refugee support, animal welfare, and historical preservation.
Rijeka: Known as the European Capital of Culture for 2020, Rijeka is an excellent destination for volunteering. Opportunities include arts and cultural events, social inclusion programs, environmental initiatives, and youth empowerment projects.
Pula: Situated in Istria, Pula combines historical heritage with beautiful natural surroundings. Volunteering options include marine research and conservation, sustainable tourism, archaeological preservation, and community engagement.
Osijek: Located in eastern Croatia, Osijek presents diverse volunteering avenues. You can get involved in activities related to social work, education, community health, sports development, and assistance to vulnerable groups.

Remember to research specific organizations and projects that align with your interests and skills. Volunteering in Croatia allows you to make a positive impact while experiencing the country's rich culture and natural beauty.

 

The cost of volunteering in Croatia can vary widely depending on the organization, the type of program, and the duration of the volunteer placement. The cost of volunteering in Croatia can range from between US$40 and US$60 depending on the organization and the length of the program.

In general, volunteer programs in Croatia may include costs such as:

$1.50

You should also consider the following additional costs:

Flight tickets
Program fees
Travel Insurance
Visa fees
Personal expenses

Before committing to a volunteer program, it is important to carefully review the costs associated with the program and to research the organization to ensure that it is reputable and aligned with your interests.

These tips will help ensure a smooth and enjoyable trip to Croatia. Remember to research and plan, as well as stay informed about the latest travel guidelines and recommendations.

Safety & Precautions for Croatia

Croatia is generally a safe country, but it's important to exercise basic safety precautions. Be cautious of your belongings, especially in crowded tourist areas. Avoid isolated areas at night and use well-lit and busy streets. Be aware of any travel advisories or warnings issued by your country's government before your trip.

Keep an eye on your surroundings and be vigilant, especially in crowded areas and tourist spots, to avoid pickpocketing and theft.Follow traffic rules, wear seat belts, and avoid driving under the influence. Be cautious on coastal roads and watch out for pedestrians and cyclists.
Familiarize yourself with emergency procedures for earthquakes and pay attention to weather forecasts to stay informed about potential wildfires.
Take caution when swimming, especially in areas without lifeguards. Be aware of strong currents, rocks, and sea urchins.
Ensure routine vaccinations are up to date and consider additional vaccinations if visiting rural or forested areas. Carry necessary medications and travel insurance.
Be cautious of common scams and tourist traps. Use reputable exchange offices and be skeptical of deals that seem too good to be true.
Save the emergency contact numbers, including 112 for general emergencies, and the contact details of your embassy or consulate.

Health Advice

Before traveling to Croatia, it's advisable to have travel insurance that covers medical expenses. Ensure you have all necessary vaccinations up to date, and consider carrying a basic first aid kit. Drink bottled water and be cautious with food hygiene to avoid any stomach issues. If you require any specific medications, bring an adequate supply for the duration of your trip.

Culture & Religion

Croatia has a rich cultural heritage, and it's important to respect the local customs and traditions. When visiting religious sites, such as churches or monasteries, dress modestly and behave respectfully. Croatians are known for their hospitality, so it's always appreciated to greet locals with a friendly "Dobar dan" (Good day) or "Hvala" (Thank you).

 

These tips will help ensure a smooth and enjoyable trip to Croatia. Remember to research and plan, as well as stay informed about the latest travel guidelines and recommendations.

If you are considering volunteering in Croatia, it is important to understand the visa requirements for your stay. Croatia is a popular destination for volunteering due to its natural beauty, cultural heritage, and various opportunities for social and environmental projects. However, whether or not you need a visa will depend on your nationality and the duration of your intended stay.

It is important to note that visa regulations can change over time, so it is advisable to check the official website of the Croatian Ministry of Foreign and European Affairs or consult with the relevant embassy or consulate to obtain the most up-to-date information.

To apply for a volunteer visa, you will typically need to provide the following documents:

A valid passport with remaining validity of at least three months beyond the intended period of stay.
A completed visa application form.
Proof of travel medical insurance that covers the entire duration of your stay in Croatia.
A letter of invitation or acceptance from the organization you will be volunteering with.
Proof of accommodation arrangements for your stay in Croatia.
Sufficient financial means to support yourself during your stay (bank statements, sponsorship letters, etc.).
Any additional documents requested by the Croatian embassy or consulate.

It is important to note that visa regulations can change over time, so it is advisable to check the official website of the Croatian Ministry of Foreign and European Affairs or consult with the relevant embassy or consulate to obtain the most up-to-date information.

Visa Advice for Volunteering in Croatia

If you are considering volunteering in Croatia, it's essential to familiarize yourself with the visa requirements to ensure a smooth and legal entry into the country. Here are some visa advice to help you understand the process and necessary documentation for volunteering in Croatia.

Visa Exemptions:

Schengen Visa: If you have a valid Schengen visa, you can enter Croatia without an additional visa.
EU/EEA/Swiss citizens: If you are a citizen of any European Union (EU) member state, European Economic Area (EEA) member state, or Switzerland, you do not need a visa to enter and volunteer in Croatia. You are free to stay and engage in volunteer work for up to 90 days within 180 days.
Non-EU/EEA/Swiss citizens: Citizens of certain countries, such as the United States, Canada, Australia, and New Zealand, can enter Croatia as tourists without a visa and engage in volunteer activities for up to 90 days within 180 days.

 

Visa Application Process:

Contact the nearest Croatian embassy or consulate in your home country to inquire about the visa application process, required documents, and fees.
Fill out the visa application form accurately and attach all the necessary documents.
Schedule an appointment at the embassy or consulate for submitting your application and supporting documents.
Pay the visa application fee, if applicable.
Attend the appointment and submit your application.
Await the processing of your visa application. The duration can vary, so it's recommended to apply well in advance of your intended travel date.

 

Remember that visa requirements and regulations can change, so it's crucial to verify the most up-to-date information from official sources. Consulting with the Croatian embassy or consulate in your home country is the best way to get accurate and personalized advice regarding visa requirements for volunteering in Croatia.